History
An history of success since 1993
A&D srl has been founded on the city of Padua. The founders are, Alberto Capuzzo and Doriano Frassinelli, coming from a consulting and development software society on IBM field, on which they were analyst and advanced programmer analyst. The society name comes from their two names and during her first year it is involved into ERP software with a development of a completed software on footwear industry.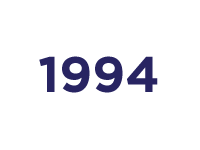 The desire to focus on solutions more verticalized bring the two founders to move towards the logistics. During this year it will be developed and created the core business of the society: the Automa WMS, a software solution for management of warehouse logistics. On 1994 there was also another big collaboration with Zanussi Grandi Impianti, know today as Electrolux Professional, an important reference that nowadays is very important for a lot of A&D customers.
The big experience gained thanks to some installations realised during these two years, help the growing and the development of Automa software and of A&D srl society, who acquired another important customer on this year: Technogym S.p.a.
A&D S.r.l. installs her logistic software on Gruppo Italiano Vini enterprise, wine producer in Europe that today uses Automa to manage his warehouses around Italy. On the same year the society is involved on the production establishment of Cesab Carrelli of Bologna, today known as Toyota Material Handling Italia, with whom it has been created a strict collaboration that continues nowadays.
This date marks the beginning of a 7 years' time, in which A&D S.r.l. develops and optimizes the automatic warehouses management on her Automa software. In these years the society realises Capral Aluminium Ltd, situated on Australia, in Brisbane city, and A&D S.r.l. staff was involved on this activity for about one year and a half.
A&D S.r.l. starts a two-year period in which, thanks to Padua Interporto collaboration, Automa Software add the terminal areas management (ports) and Cityporto management, that is a pick-up point for goods arrived from carriers and from which, all the deliveries start using different equipment.
During this year, bring to the desire of innovation, A&D S.r.l. re-create the product founding it on a web platform and realising an entirely parametric area, with which the final user could manage a lot of different types of work on the warehouse. Starting from this date, the software continues to grow and it became integrated with the different managements/logistics that finds on different projects or functionalities and every customer can use them deciding to activate it on their installations.
A&D S.r.l. become partner of Toyota Material Handling Italy for the WMS Automa supply, integrated with forklift automation Bus Stop, for the management of forklift without operator on board and forklift with Helper technology.
Thanks to a partnership with L.S Logistica Sanitaria S.r.l, an enterprise of Verona, A&D S.r.l could enter on Helath Italian World, realising a project of tracking on University Hospital society of Verona. Health Automa Software born in these years, and it is dedicated to the logistics hospital centres and for stock on hospital centres.
Vocal technology (Voice) and RFID management are integrated on software Automa, they are useful for optimize picking operations and tracking/handling of goods on production areas. One of the most important installations is situated on Cooperativa friulana AsterCoop on Udine, for Cooperativa Alimentare Coop and the tracking project RFID is realised on its interior part for handling operations.
A&D S.r.l creates a partnership with the society Incaricotech S.r.l., an exclusive representant in Italy of warehouse's vertical solutions developed by the German society Hamel GmbH, to create an internal software to vertical warehouses.
WMS Automa is interfaced as manager of the new automatic warehouse of Gruppo Italiano Vini, confirming the role of A&D S.r.l. as a strategic supplier for the group, which has been using the software to manage its warehouse for more than 20 years.
Monge s.p.a. renews its trust to A&D S.r.l. by using the WMS Automa as operator of the new automatic warehouse, a plant that counts 43,000 pallet places and is served by 10 stackers. The Italian pet food giant in the world has been operating its warehouse with Automa software for 7 years. A collaboration destinated to go on on time.
In the two-year period 2018-2020, also thanks to the push of Industry 4.0, A&D S.r.l. consolidates its experience in interfaces with mobile base compactable warehouses. The company realizes 8 new integrations concentrated between north and central Italy, within which the opening of the mobile lanes is managed remotely directly by the software. To date, WMS Automa counts integrations with the main manufacturers of compact storage systems, including Icam, Kredit and Compact.
Top